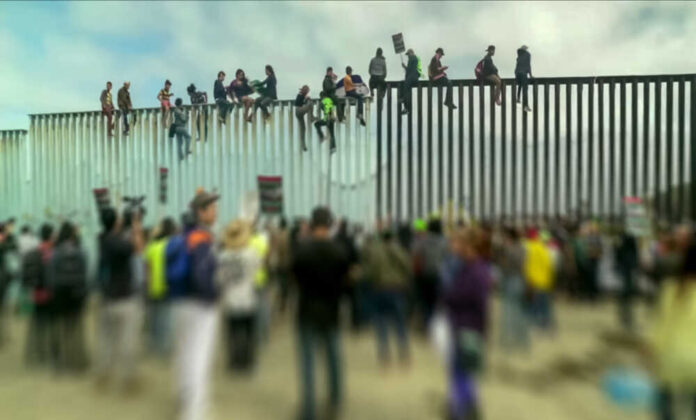 (TheRedAlertNews.com) – In a new anti-American outrage, the Biden administration has activated a policy banning the arrests or deportation of illegal aliens based solely on their being in the country illegally.
The outrageous policy condoning blatant violations of America's laws was devised in 2021 by President Joe Biden's woke Secretary of Homeland Security, Alejandro Mayorkas, but was put on hold after being challenged in court.
However, in June 2023, the US Supreme Court voted almost unanimously to kill off the legal challenge, and the pro-illegal migrant policy has been reactivated, The Washington Times reports, quoting its sources.
The new Biden policy for ICE (Immigration and Customs Enforcement) means that being in the US illegally wouldn't be considered a sufficient reason for deportation or arrest of the migrants.
Thus, US government officers and agents are not supposed to justify any arrest or deportation of an illegal immigrant as "a threat to national security, a risk to public safety or a recent border crosser."
To make matters worse, the Mayorkas policy even instructs ICE officers to seek reasons and "mitigating circumstances" not to deport anybody – such as "having family ties in the US, being advanced in age or having a criminal record years ago."
When the Mayorkas policy was challenged in lower courts by Texas and other GOP-led states, their lawyers proved that it had led ICE to refuse to arrest and deport serious criminals among illegal aliens.
However, in June, the US Supreme Court allowed the ICE policy to stand by ruling 8-1 that the states didn't have the standing to challenge. It didn't rule on whether the policy itself was legal.
"ICE personnel will reinstitute the [priorities] as outlined in the September 2021 memorandum, ensuring that aggravating and mitigating factors for enforcement actions are fully considered and assessed," reads a memo obtained by The Times that ICE enforcement and removal operations chief Corey A. Price sent out to employees after the Supreme Court's June ruling.
Unnamed ICE officers are reportedly outraged by the policy's restoration, saying even essential arrests of illegal immigrants became off-limits.
"It's put so much friction in the system that we go weeks without arresting somebody. It seems like a coordinated effort to come up with excuse after excuse for us not to do our job," one officer commented.
Under President Donald Trump, ICE expelled 150,141 convicted migrant criminals in 2019 and 103,762 in 2020.
Under Biden, it deported only 39,149 in 2021 and 38,447 in 2022, which was under 50% of the agency's target.
The new rules, which lay out President Biden's priorities for immigration law enforcement, say that being in the country illegally is no longer a sufficient reason for arrest or deportation. https://t.co/bgILyWSJ3N

— The Washington Times (@WashTimes) August 2, 2023