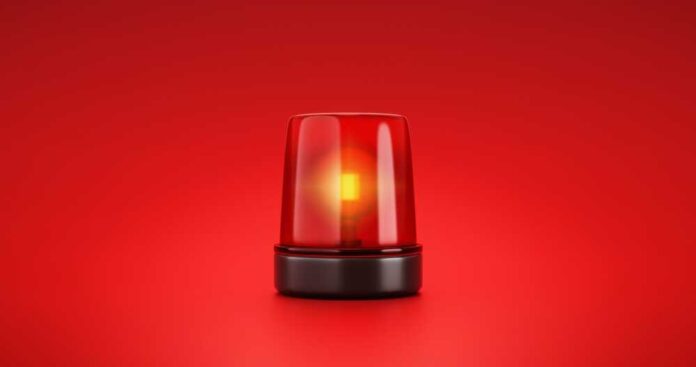 (TheRedAlertNews.com) – A terrifying incident with a ferry in the Bahamas has claimed the life of an elderly American woman while putting dozens of other US tourists through a shocking experience when it suddenly began sinking.
See the video below.
On Tuesday, the ferry, filled with cruise ship passengers and en route to the Blue Lagoon Island in the Bahamas, began sinking in turbulent waters, The New York Post reports.
This privately operated vessel, known for its popular excursions from cruise ships docked in the Bahamas, was journeying from Paradise Island in Nassau to the Blue Lagoon Island at the time of the incident.
Shocking video footage vividly captured the chaos on board: passengers, donning orange life jackets, were seen desperately clinging to the ferry as it alarmingly listed to one side.
In the harrowing scenes, passengers were observed tumbling towards one side of the vessel as it bobbed over the rough waters. Subsequent footage depicted tourists leaping into the sea in a bid for safety.
Tragically, a 75-year-old American woman from Colorado was a casualty of this disaster, as confirmed by local police to the Bahamas newspaper Tribune 242.
The woman's identity has not been disclosed, and the precise details of her demise remain uncertain.
As the ferry neared its destination, the maritime conditions worsened, recounted American tourist Kelly Schissel in a TikTok video summarizing the dreadful event.
"One of the crewmembers who was downstairs ran upstairs and was crying, absolutely bawling, and grabbing a life jacket. That's when everybody was like, this is real, something's happening," Schissel detailed.
Panicked passengers scrambled to don life jackets and gathered on the vessel's upper deck. Crew members were overwhelmed by the situation, leaving them unable to provide guidance to the passengers.
"Once we realized we were starting to sink, and we saw the water coming in, people were screaming and people were freaking out, so we all got our life jackets on. We were waiting for the staff to direct us on what to do, and they didn't," she recounted.
Further footage revealed passengers eventually opting to jump from the sinking ship into the clear blue waters below. Despite the water's deceptive beauty, many struggled to stay afloat in the choppy conditions.
Rescue boats eventually arrived, while Several individuals on nearby boats also aided in rescuing some of the ferry's passengers, as Schissel pointed out.
Two passengers were transported to a local hospital for medical attention.
Earlier today a boat started sinking in the Bahamas. Some of people on it were from a Royal Caribbean Cruise. pic.twitter.com/7kqYfaRXsz

— Jelly Santos (@MrsJellySantos) November 15, 2023