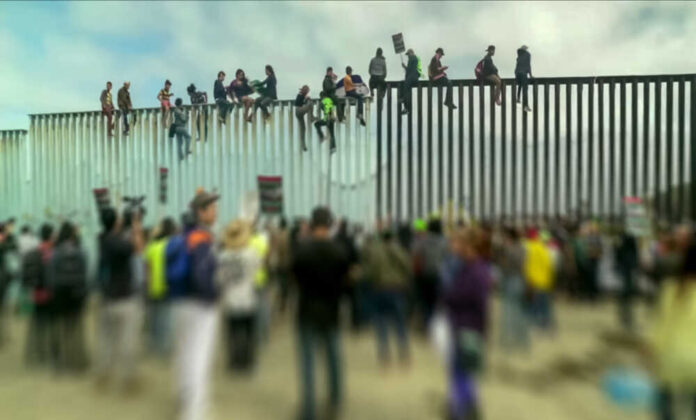 (TheRedAlertNews.com) – In a blatant demonstration that Joe Biden's new illegal immigration policy has failed, the number of illegal aliens invading the US-Mexican border soared in July, according to official figures.
A report by the Customs and Border Protection (CBP) agency issued on Friday showed the US Border Patrol busted a staggering 132,652 illegal aliens at the Southern Border in July.
That is a 33% increase compared with June, when the number of apprehensions stood at 99,545 times in June, the Associated Press reports, as cited by Newsmax.
While the July 2023 figure is technically 27% smaller than the 181,834 migrant detentions from a year earlier, in July 2022, the new spike is deemed significant because it reverses the June drop.
The smaller number of apprehended border jumpers in June occurred after, in May, the Biden administration ended the Trump-era Title 42 expulsion policy, replacing it with a smartphone app for illegal immigrants and new rules supposedly making it harder to get asylum after jumping the border.
It allowed 1,450 migrants daily to get appointments at border crossings for "legal immigration" through the CBP One mobile app.
Thus, besides the 132,000 apprehended at the border, in July, another 44,700 illegal immigrants became "legal" migrants through CBP One appointments at official crossings.
The AP report points out that there were 60,161 migrant border arrests of families with children in July, almost double June.
It adds that illegal immigrant smuggling has moved to "highly remote and insufferably hot parts of Arizona." US officials attribute the shift to "false advertising" by traffickers.
Thus, in July, the Tucson Border Patrol Sector, which covers most of Arizona's border section, saw almost 40,000 arrests, a 60% spike compared with June and over 100% more than July 2022.
However, according to a newly released Breitbart News report quoting unofficial data, in the first half of August, the Tucson Sector was surpassed by the Rio Grande Valley Sector in Texas, with roughly 22,000 and 24,000 migrant apprehensions, respectively.
According to the head of the Tucson Border Patrol Sector, John Modlin, several large groups of illegal immigrants were intercepted there on the first weekend of August. One of those was made up of 533 people from 17 countries.
Arrests for illegally crossing the U.S. border from Mexico soared 33% from June to July, according to U.S. government figures released Friday, reversing course after a plunge that followed the introduction of new asylum restrictions in May. https://t.co/n0jtOM1Mxr

— NEWSMAX (@NEWSMAX) August 20, 2023