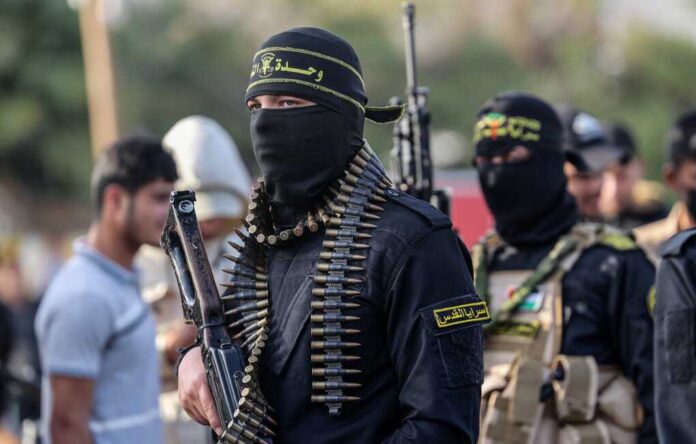 (TheRedAlertNews.com) – Joe Biden has made a bizarre, dangerous, inexplicable deal in which a wolf has agreed not to eat a lamb entrusted to him – as the administration has received a promise from the bloody Palestinian terrorist group Hamas not to steal $100 million in US humanitarian aid to the Gaza Strip.
Jon Finer, the Deputy National Security Advisor, revealed in a CNN interview Thursday that the Biden administration has an "understanding" with Hamas to prevent the theft of US aid.
This came after Biden pledged the Palestinians $100 million in humanitarian assistance.
The commitment followed reports from the United Nations Relief and Works Agency, which claimed that Hamas took fuel and other relief supplies.
On October 7, Hamas used the Gaza Strip, a tiny, crowded enclave of 2.2 million people, to invade Southern Israel, where it massacred over 1,400 civilians, including 30 Americans.
During Finer's interview, CNN host Poppy Harlow questioned how the US plans to ensure the aid doesn't end up with Hamas.
The Biden administration official pointed out that ensuring aid reaches the intended recipients involves cooperation from multiple entities.
"Getting assistance into Gaza is a complicated undertaking. It involves, essentially, securing an understanding among Hamas fighters who control the checkpoints on the other side of the border, among the government of Israel and among the government of Egypt," he said.
"The president was also quite clear if this assistance goes in it cannot be misappropriated. It cannot be taken by Hamas fighters for their own purposes. And so we're going to be watching that very closely. It has to get to Palestinian civilians," Finer added.
According to Finer, the agreement will ensure the aid trucks move as soon as possible.
However, Harlow further inquired about guarantees, asking whether the US has to simply trust Hamas's word that the aid won't be misappropriated.
Finer responded by highlighting agreements with other regional powers.
"We believe there's an understanding now among all of the players who control that crossing, the Rafah crossing in Egypt, President El-Sisi has given his commitment to the president. The Israelis have said that they will permit assistance to go through. So we believe in the next day or so, that assistance will start to move," the Biden official elaborated.
Israel has recently called for the evacuation of hundreds of thousands of civilians in Gaza due to potential operations against Hamas.
Q: How will you ensure none of the $100M for Gaza/West Bank "ends up in the hands of Hamas?"

DEP. NSA JON FINER: "It involves securing an understanding among Hamas…"

Q: We should "take the word of Hamas…?"

FINER: "We believe there is an understanding" pic.twitter.com/zT8fuqjX53

— RNC Research (@RNCResearch) October 19, 2023